..Advertisements..
Continue reading below
Sloppy Joes have a really bad reputation. They are showcased in every single movie or television show being the lunch that no one wants to eat. They are served by the hairnet wearing, gross lunch ladies. For some reason, I never thought badly about sloppy joes, they were the very first meal that I knew how to make. Back in college, I used to cook for my girlfriends and one of the meals in my repertoire was Sloppy Joes. I would brown ground turkey, add in some chopped onions and peppers, and smother them with chili sauce. It was quick, easy, and generally a crowd-pleaser.
In our household, we have tried buffalo sloppy joes, but I was interested in the idea of a "tex-mex" version. I must admit I was very easily persuaded by the idea of piling guacamole high onto the bun. These came together with ease and I loved that they came together with staple pantry ingredients. The only thing that I had to buy was a six-pack of beer which led us to have to drink the remaining beers with our dinner (what a tragedy). The sauce was the perfect balance of spice with some cooling effects from the guacamole and cheese. The sandwich itself is a bit messy, but I guess that is the reason why they are named sloppy. I promise that these will be a welcome addition to your dinnertime routine, think of it as an updated classic!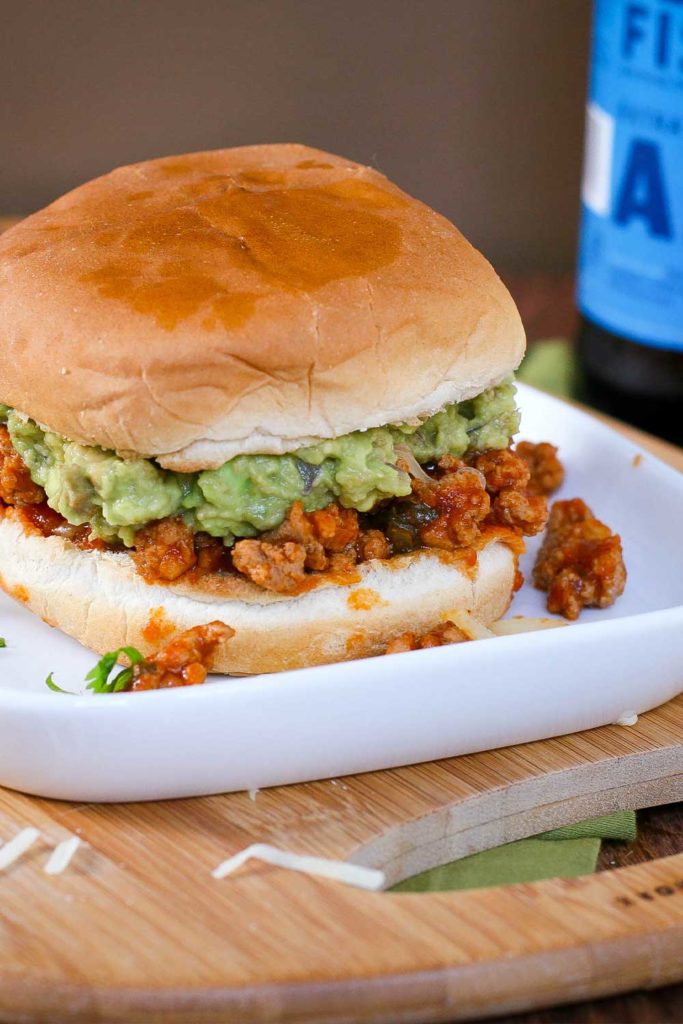 Tex Mex Sloppy Joes
...
Ingredients
1

14.5 oz can tomato sauce

1/4

tsp

chipotle powder

2

tsp

oregano

2

tsp

ground cumin

1

tsp

smoked paprika

1/4

tsp

ground allspice

Pinch

of cayenne

2

tsp

Worcestershire sauce

1 1/4

lbs

ground chicken

turkey, or beef

1

tsp

canola oil

1/2

medium yellow onion

diced

2

cloves

garlic

minced

12

oz

beer

such as a light ale or lager

2

tbsp

ketchup

1/4

cup

cilantro

1

tbsp

lime juice

Salt and black pepper to taste
For serving:
6

warm hamburger buns

Guacamole

cheddar
Instructions
Whisk together tomato sauce, chipotle chile powder, oregano, ground cumin, smoked paprika, allspice, cayenne, and Worcestershire sauce in a medium bowl until fully combined.

In a large skillet brown meat of your choice over medium heat, stirring occasionally until no longer pink, about 10 minutes. Drain off any fat. Add the canola oil to the pan with the browned meat, add the onions and cook until soft and translucent, about 5 minutes. Add the garlic and cook until fragrant, about 30 seconds. Pour the prepared tomato mixture into the skillet followed by the beer, ketchup, and cilantro. Stir until well combined.

Bring to a low simmer over medium heat then reduce the heat to medium-low heat and cook uncovered for 15 minutes (I ended up covering mine for the last 5 minutes since the sauce didn't seem to be evaporating much). Stir in the lime juice. Season with salt and pepper to taste, as needed. Serve on warm buns with toppings.
....Advertisements....
CONTINUE READING BELOW