I'm sorry, but boxed brownies just don't cut it… they don't. Not even a little bit. They are just NOT a substitute for homemade brownies. During my youth, all I knew was boxed brownies. Then I made my own when I was older and saw the light! While I was visiting my parents recently I was reduced to boxed brownies… wow, I think next time I'll just forgo brownies altogether- they were so terrible! Did not even compare to those you can make from scratch.
Now, let's get serious- have you heard of the rave which is THE Baked Brownie? It's all over food blogs. It was written about in the "O" magazine, being named one of her favorite things. It was also voted "The Best Brownie" as rated by America's Test Kitchen on The Today Show. The Baked Bakery is this incredible little Bakery in the Red Hook district of Brooklyn, NY. They have two baking cookbooks on the market and they are both AMAZING. I am sure that I have mentioned them before. I am slightly obsessed with their recipes and with good reason- they are just incredible! All of them. They are the type of cookbook authors that you just trust with everything.
Jeez, enough about that. Let's talk about this brownie some more. It's exactly what a boxed brownie dream and wishes it could be. Not so dense that it is fudge, but not cakey either. It's perfectly moist and flavorful, and dense and chewy. Remember- this isn't a cakey brownie and it isn't a slab of fudge! It's just brownie bliss. The authors suggest using a cocoa powder of high quality, so I went the extra mile and ordered some Valrhona cocoa powder offline (as suggested). I wanted to be sure I did this right, I wanted this brownie to live up to its hype. Well, it was a very, very good brownie. However, I don't necessarily feel that you need to buy special cocoa powder, but it probably does help. Just know, this brownie is oh, so delicious…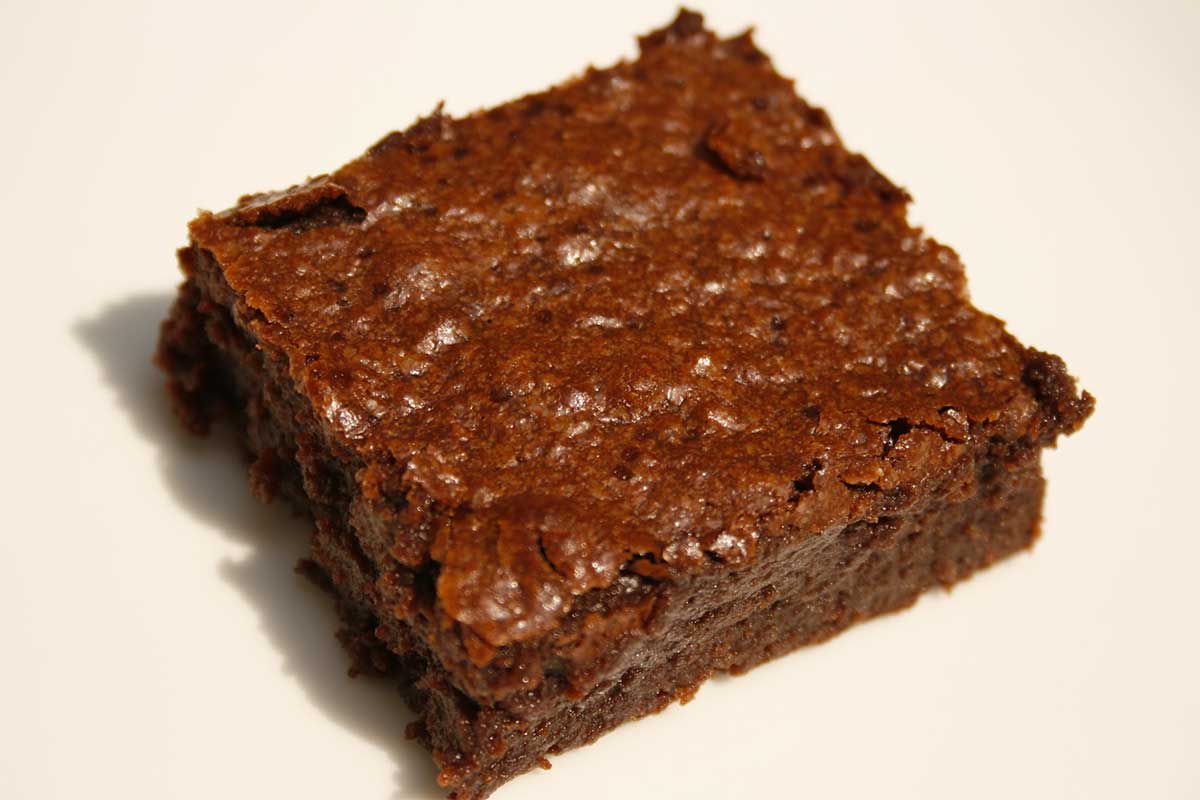 The Baked Brownie
Ingredients:
1¼ cups all-purpose flour
1 teaspoon salt
2 tablespoons dark unsweetened cocoa powder
11 ounces dark chocolate, coarsely chopped
1 cup (8 ounces) unsalted butter, cut into 1-inch pieces
1 teaspoon instant espresso powder
1½ cups granulated sugar
½ cup packed light brown sugar
5 eggs, at room temperature
2 teaspoons vanilla extract
Directions:
Preheat the oven to 350 degrees F. Butter the sides and bottom of a 9×13-inch glass or light-colored baking pan. Line the pan with parchment paper.
In a medium bowl, whisk the flour, salt, and cocoa powder together.
Put the chocolate, butter, and instant espresso powder in a large bowl and set it over a saucepan of simmering water, stirring occasionally, until the chocolate and butter are completely melted and smooth. Turn off the heat, but keep the bowl over the water and add the sugars. Whisk until completely combined, then remove the bowl from the pan. The mixture should be room temperature.
Add 3 eggs to the chocolate mixture and whisk until combined. Add the remaining eggs and whisk until combined. Add the vanilla and stir until combined. Do not overbeat the batter at this stage or your brownies will be cakey.
Sprinkle the flour mixture over the chocolate mixture. Using a rubber spatula (not a whisk), fold the flour mixture into the chocolate until just a bit of the flour mixture is visible.
Pour the batter into the prepared pan and smooth the top. Bake in the center of the oven for 30 minutes, rotating the pan halfway through the baking time until a toothpick inserted into the center of the brownies comes out with a few moist crumbs sticking to it. Let the brownies cool completely, then lift them out of the pan using the parchment paper. Cut into squares and serve.
Store at room temperature in an airtight container or wrap with plastic wrap for up to 3 days.