..Advertisements..
Continue reading below
I don't know what is wrong with me lately but I have been having some serious coconut cravings. I swear ever since I bought coconut oil and made those Healthy Mounds Bars it's all I think about. Maybe they are like post-pregnancy hormone cravings? I don't know. After the Mounds Bars I made a Coconut Loaf and I still wasn't satisfied. I decided to take my coconut craving in a different direction and make a pie. I don't make pies often enough. They're the kind of dessert that I instinctively think of as too much work, but when I really sit down and consider it, it's not too bad. Granted it's more effort than chocolate chip cookies since there are so many different components (crust, rolling the dough, making the filling, assembling the pie), but it's not the most difficult dessert.
I have never had coconut cream pie. I'm not a custard person- I like to have more crunch or chew in texture. So, although this won't become a personal favorite of mine, it was a very good pie. I searched the internet until I found a recipe that consisted of more than a basic custard with shredded coconut mixed in. I hate when recipes do that with coconut cake, I certainly wasn't about to do that with pie. When you call something "coconut" you should have more coconut flavor present than just the shredded coconut, because honestly it's not that strong. This pie has FOUR layers of coconut flavor- coconut milk, coconut cream, coconut extract, and sweetened shredded coconut. Now that is some serious coconut flavor!!
The way that this pie set up was beautiful. It wasn't too gelatinous and rubbery from the gelatin- it was perfect. You're able to slice beautiful slices that keep intact while you serve, yet there is enough give to still consider it creamy. And I loved the way the custard just melts in your mouth. It is made up of mostly fat from the coconut milk and cream which gives it that melty quality- it is mostly saturated fat like butter (it'll stay solid until heated). BUT- good news! The fat is primarily healthy monounsaturated which is actually great for you. You can tell yourself that while you are devouring slices…
The pie does need a good 8 hour chill in the fridge to set up before serving though so plan accordingly. I made mine at night and it was perfect the next day. Here's another tip too- to keep your crust from getting soggy on the bottom from the custard, use some of the leftover egg whites from the custard to brush along the bottom as soon as it comes out of the oven. That will create this nice barrier between the crust and the custard (you won't taste the whites at all). Oh, and I didn't use the crust recipe here- I used my favorite Vodka Pie Crust.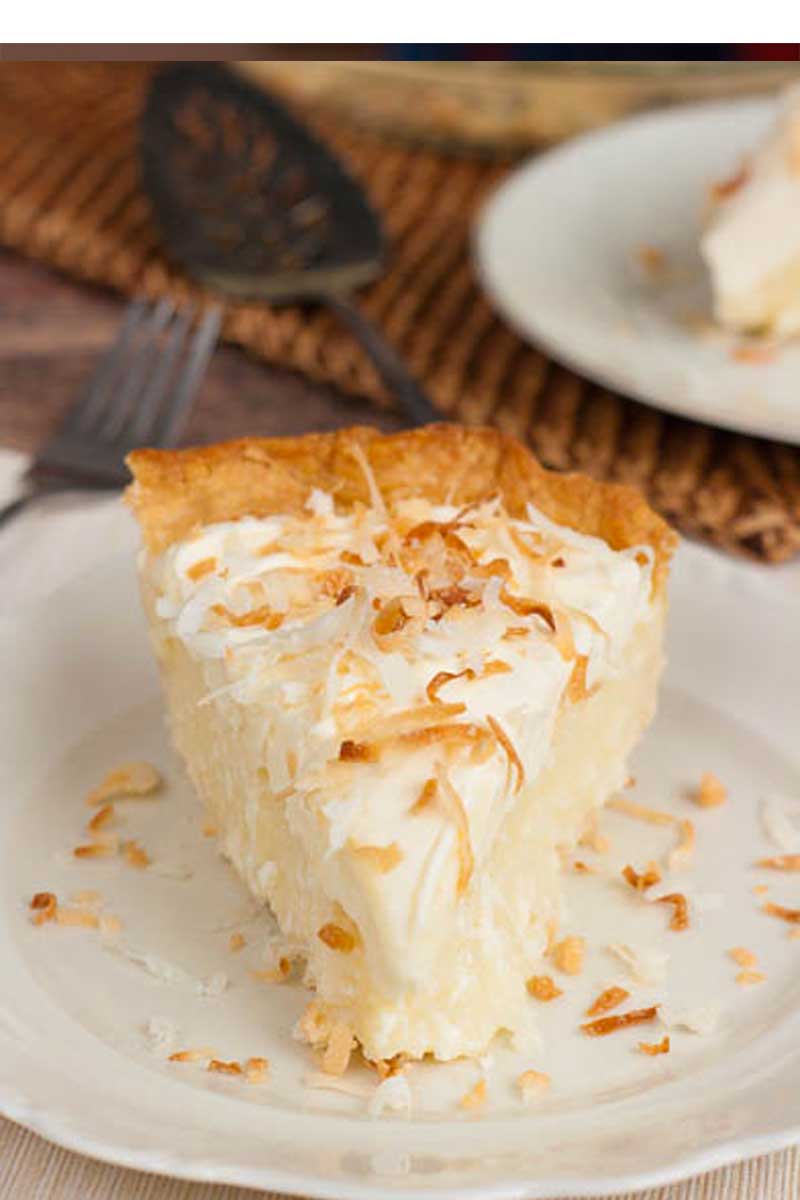 Ingredients:
Crust:
1¼ cups all-purpose flour
¼ teaspoon salt
¼ cup shortening
¼ cup cold butter, cubed
1 teaspoon white vinegar
2-3 tablespoons ice cold water
Filling:
1½ cups whole milk, divided
1 envelope (about 2½ teaspoons) unflavored gelatin
1 (13.5-ounce) can pure coconut milk
½ cup sugar
¼ cup cornstarch
1 large whole egg
3 egg yolks
2 tablespoons butter, room temperature
1 teaspoon coconut extract
1 (15-ounce) can cream of coconut
2½ cups shredded, flaked coconut, divided (sweetened, flaked coconut from the baking aisle)
Topping:
1½ cups heavy cream
3 tablespoons powdered sugar
½ teaspoon vanilla extract
Directions:
Preheat oven to 425°F. In a large bowl, combine flour and salt. Cut in shortening and ¼ cup cold cubed butter until mixture resembles coarse crumbs. Stir in the vinegar and 2 tablespoons water, until mixture forms a ball, adding more water if necessary. Pat into a ball and wrap in plastic wrap, and refrigerate for 4 hours or overnight.
Roll dough out to fit a 9½-10 inch glass pie plate. Place crust in pie plate and trim and crimp edges. Place the dish on a baking sheet for easier handling. Prick the bottom and sides of the crust well with a fork. Line the inside of the crust with a piece of foil, allowing edges to extend several inches beyond the perimeter. Place 2 cups of dried beans in the crust to weight it down during baking and prevent shrinkage. Bake for 15 minutes or until crust is no longer raw on bottom. Remove the foil and beans by carefully lifting the foil out by the overhang. Bake for another 10 to 15 minutes or until light golden brown. Remove from oven and cool completely.
Place ½ cup cold milk in a mixing bowl (preferably with a pouring spout) and sprinkle with the gelatin. Set aside to soften for about 5 minutes.
Bring the remaining milk and coconut milk to nearly a boil in a large heavy saucepan over medium heat.
When the gelatin is soft, add the sugar, cornstarch, egg and egg yolks and whisk until very well blended. Gradually whisk about a ¼ cup of the hot milk mixture into the gelatin mixture; repeat this process once or twice using about ¾ cup of the hot milk mixture. Pour the warmed gelatin mixture into the saucepan with the hot milk and bring the mixture to a boil, stirring constantly. Cook for about 2 minutes or until mixture is very thick.
Strain the pastry cream through a fine wire strainer into a large clean bowl; whisk in the butter, coconut extract, and cream of coconut until smooth. Stir in 2 cups shredded coconut. Pour into the cooled the pie shell and refrigerate for at least 8 hours.
To make the topping, beat the heavy cream in a large bowl on high speed until foamy. Add the powdered sugar and vanilla, and beat until soft to medium stiff peaks form. Spread over the pie. Sprinkle with remaining ½ cup coconut. Keep refrigerated.