..Advertisements..
Continue reading below
Everybody spread out, okay? Arms length! I don't want anyone to get trampled on the way to the kitchen after I lay some hardcore flavor on you.
It all started when I saw an innocent little recipe for crockpot beef barbacoa. I had no idea what that was really, but Gimmie Some Oven made it look like heaven.
See that? It's as delicious as it looks, but we'll get to that later.
The innocuous question of 'what do I do with shredded beef' has quite a few very worthy responses. The one that caught in my mind was the homely enchilada. I say homely because it's perfectly acceptable, but utterly forgettable in the face of fancy tacos, chile rellenos, or the ever delicious nachos. Also, I think enchilada sauce tastes like dirt.
That's why I was determined to make an enchilada recipe that I would actually eat and enjoy. That means that a simple meat and cheese roll-up (with dirt sauce) wasn't going to cut it. You've got to build some flavor into these babies, but don't worry – I took care of that for you.
And it all starts with that beef barbacoa.
Did I already say it was delicious? Because it was delicious. It's the crowning glory of this recipe. Seriously.
You could make your favorite version of barbacoa if grandma handed one down, but you'll regret it if you don't use this highly flavored, melt in your mouth, juicy and delicious recipe with sauce (whoever it comes from). Then throw in some vegetables for texture, flavor, and a little lightness. Summer is blessing us with delicious vegetables, so I chose a crunchy yellow squash and some sweet corn. I cheated and used canned corn but you don't have to.
Make your beef barbacoa the day before. It'll take 8-ish hours in your crockpot and unless you can slap it in before you start your day, then ease your mind by doing it the day before. Once your beef is tender and shreddable (and delicious), shred your beef. Separate the "bits" and juice, whiz it through a food processor and store separately. Trust me. I meant to do this and forgot, so getting my barbacoa juice was like bleeding a stone the next day. Save yourself.
If you can follow that simple instruction, you're on your way to flavortown. Make your own enchilada sauce for extra flavor bonus points. Use whatever vegetables you have on hand, any kind of cheese you want, corn or flour tortillas. It'll still be great guys. Knock yourselves out.
Also, is it just me or is everyone terrible at estimating how much to put in individual things like this? I thought I was doing great until I saw a double helping of filling for the last enchilada that would fit in the pan, so I just made one giant Zeppelin enchilada. No one complained.
FYI, the prep time below doesn't include making the barbacoa because you made that the day before right? Right.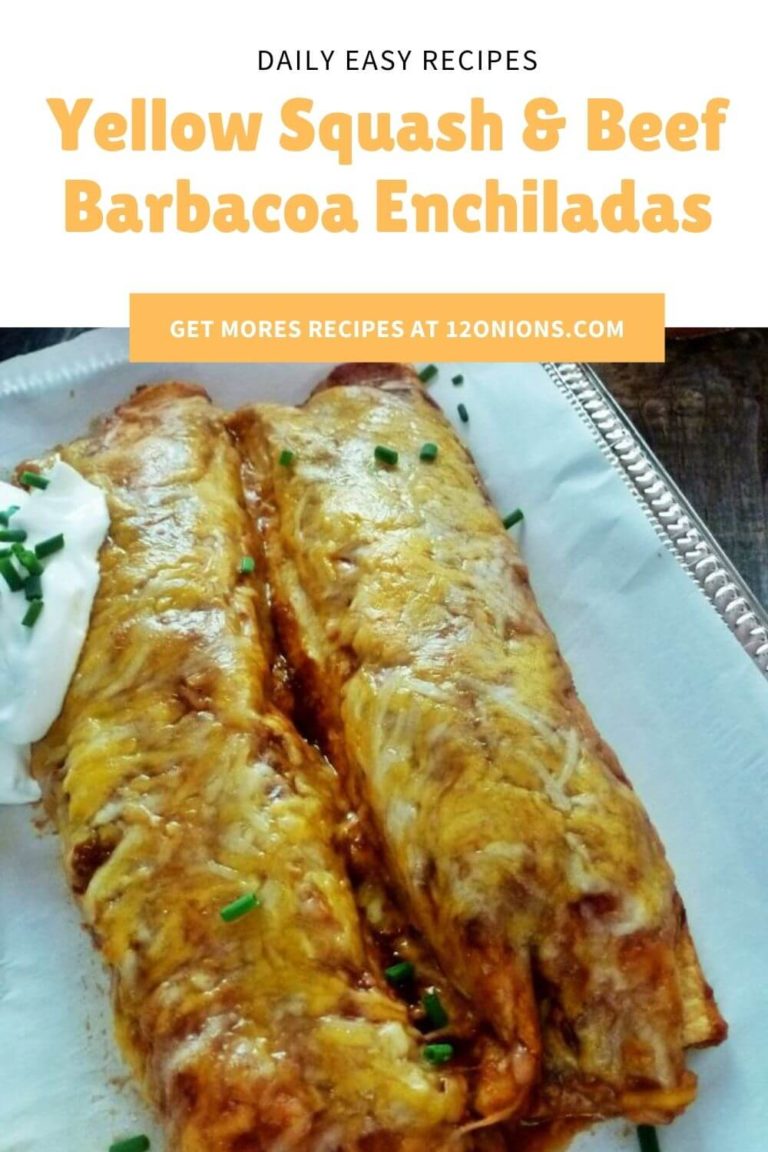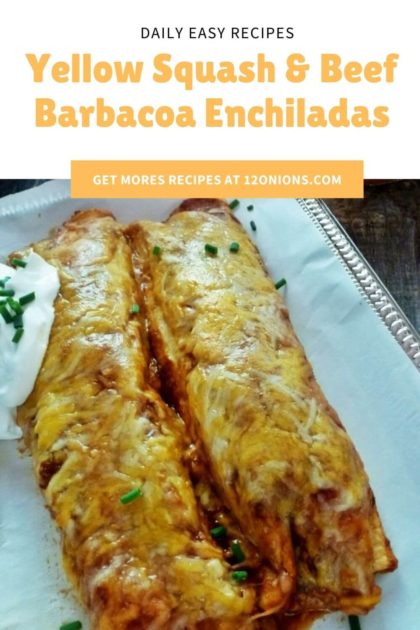 Yellow Squash & Beef Barbacoa Enchiladas
...
Ingredients
1/2

recipe of beef barbacoa

roughly 1.5 lbs of prepared meat with sauce blended and set aside

1/2

can corn

1

medium yellow squash

diced to roughly the size of the corn kernals

6-7

flour or corn tortillas

1

can enchilada sauce or about 1.5 cups of your own recipe

2

cups

shredded cheese
Instructions
Prepare the beef barbacoa according to your recipe. Separate sauce and blend in blender. Set aside.

Mix enchilada sauce with 1/2 cup (or more) of the barbacoa sauce.

Preheat the over to 350F. Coat the bottom of a 9 x 13" casserole dish with a thin layer of the mixed enchilada sauce.

Over medium-high heat, saute yellow squash, corn, and shredded beef until squash is cooked and the mixture warmed through. Remove mixture with a slotted spoon and set aside, leaving the remaining liquid in pan. To the mixture, add 1 cup of shredded cheese and stir to combine.

Add water or extra sauce to the a small amount of the enchilada sauce left in the pan. Using tongs and working one at a time, slip the tortillas into the saucepan to cover both sides with sauce.

Once coated, add up to up to 1/2 cup of the mixture to each tortilla and arrange in dish. This will depend on the size of your tortillas, cooking vessel, and your preference for the amount of filling, so adjust to your own liking. People here like huge burrito-type enchiladas.

Pour remaining enchilada sauce over the tortillas and top with remaining cheese.

Bake uncovered for 20 minutes, or until everything is hot and the cheese is melted.