..Advertisements..
Continue reading below
I LOVE fritters! Weather they are made from potatoes, sweet potatoes, zucchini, carrots, filled with ground meat etc ( we will talk about these later on)  – you name it!
Today I will talk about zucchini and carrot fritters. My whole family ate them with a speed of a blink ( ok ok, maybe I am exaggerating…but just a BIT!  Ha-ha! ). And I was very happy, because most of the time my kids refuse to eat anything that has green color in it. Yep. They were THAT good!
So, to make around 20 round, crispy, tasty fritters you will need: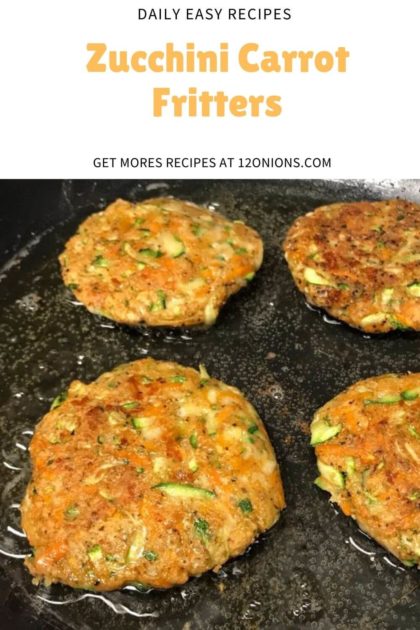 Zucchini Carrot Fritters
...
Ingredients
3

medium size zucchinis

1

large carrot

1

medium onion

2

eggs

1.5 – 2

cups

flour

dill

salt and maybe, to your taste pepper

vegetable oil
Instructions
Grate the vegetables

Zucchini is a very watery vegetable. And in order to get crispy and strong ( not falling apart) fritters,we will need to remove all the juice that came from zucchini. Take time to take out as much moisture from the vegetables as possible. You can use a regular cheese cloth for that.

Add 2 eggs into the bowl.

Add some chopped dill into the bowl.

Mix it all up very well.

Add flour and salt ( and pepper if you wish). And mix it all up.

Heat up your pan and pour oil into it.

Once the pan is hot, scoop one spoon of your vegetables mix and put into pan.

Flatten in with a spoon a bit ( by choice).

Fry on medium heat for about 3-4 minutes each side.

If you fritters are falling apart ( or saggy) , just add more flour.

Once all done, serve zucchini carrot fritters hot with sour cream and garnish them with few springs of dill.