..Advertisements..
Continue reading below
Shrimp makes the shortlist for a quick, healthy, but still-special meal. Here's a collection highlighting four easy and crave-worthy ways to get shrimp on the table, from grilled, boiled, broiled or sauteed, and salad to scampi. I recommend buying frozen bags of wild-caught shrimp, which are more flavorful than farmed. The bags are more convenient and economical, and in any case, the "fresh" shrimp you find at the fish counter have nearly always already been frozen.

Fresh herbs, a sprinkle of Parmesan and a little lemon citrus complement sweet, freshly sauteed garlic shrimp.
This easy dish combines two of my favorite ways to eat shrimp, with fresh herb pesto and a buttery, garlicky scampi sauce. Is it the best of both worlds when tossed with linguine? My vote says yes.

Avocado, grapefruit, and feta dress up a warm shrimp starter.
Warm and buttery smooth, broiled avocados have had a bit of a moment. They're incredibly quick and easy to make and when paired with broiled shrimp, creamy feta, and sweet-tart grapefruit you've got a makeshift "shrimp cocktail" that hits it out of the park.

Grilled romaine pairs well with spicy shrimp.
Grilled hearts of romaine and chipotle-flavored pineapple and shrimp skewers are so easy to throw on the grill, and the result is a fully plated meal for your guests in no time flat.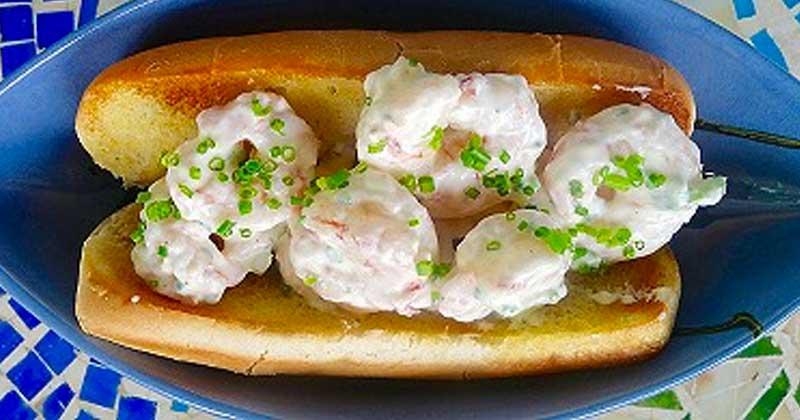 Simply dressed shrimp on a buttered, toasted roll.
I'm a die-hard crab and lobster roll fan (as evidenced by pilgrimages to Maine) but I have a hard time finding lobster and crab that is sweet enough to recreate what I crave when not perched beside a lobster boat. Enter the only real solution: boiled wild-caught shrimp. For a summertime (or anytime) fix, these fit the bill with a simple, classic dressing that allows those sweet shrimp to shine.
...Advertisements...
CONTINUE READING BELOW