..Advertisements..
Continue reading below
Gather 'round, foodies! Today, I'm thrilled to share with you a delightful recipe that not only reduces food waste but also satisfies your taste buds in the most scrumptious way possible. Have you ever found yourself staring at a bowl of leftover mashed potatoes, wondering how to give them a second life? Well, wonder no more! Let me take you on a journey to create something magical out of those remnants.
How to Prepare Crispy Leftover Mashed Potato Pancakes
If you're anything like me, you cherish the memories of family gatherings and the joy of sharing a meal with loved ones. This recipe, born out of a desire to make the most of our leftover mashed potatoes after a heartwarming dinner party, has become a cherished tradition in my household.
Ingredients for Crispy Leftover Mashed Potato Pancakes
2 cups cooked and cold mashed potatoes
2 eggs, lightly beaten
1 tablespoon all-purpose flour
⅛ teaspoon garlic powder
1 tablespoon vegetable oil
1 tablespoon chopped fresh chives
Directions for Crispy Leftover Mashed Potato Pancakes
Place the cold mashed potatoes, lightly beaten eggs, all-purpose flour, and garlic powder in a bowl. Mix the ingredients thoroughly until well combined.
Heat the vegetable oil in a skillet over medium-high heat.
Transfer the potato mixture to the skillet, using a spatula to press and flatten it evenly.
Cover the skillet and let the mixture cook for about 10 minutes, allowing the bottom to turn crispy and golden brown.
Carefully invert the potato pancake onto a serving platter.
Garnish your creation with chopped fresh chives for an extra burst of flavor.
And there you have it! A plateful of golden, crispy potato pancakes that are not only a treat for your taste buds but also a heartwarming reminder of the wonderful times shared with your loved ones.
Frequently Asked Questions
1. Can I use leftover sweet potatoes instead of regular mashed potatoes?
Absolutely! Leftover sweet potatoes can work wonderfully in this recipe, offering a slightly different flavor profile that's equally delicious.
2. What's the secret to achieving the perfect crispiness?
The key is to make sure your skillet is well-heated before adding the potato mixture. Pressing the mixture evenly in the skillet and allowing it to cook without constant flipping also helps in achieving that satisfying crispiness.
3. Can I customize the seasoning?
Definitely! Feel free to experiment with your favorite seasonings to make the pancakes uniquely yours. Some grated cheese or a pinch of paprika could add a delightful twist.
4. Are these pancakes suitable for vegetarians?
Absolutely! This recipe uses only vegetarian-friendly ingredients, making it a great choice for those who follow a vegetarian diet.
5. Can I prepare the mixture ahead of time?
While it's best to cook the pancakes immediately after mixing the ingredients, you can prepare the mixture in advance and store it in the refrigerator for a short period before cooking.
6. What can I serve alongside these potato pancakes?
These pancakes are versatile companions. You can serve them with a dollop of sour cream, a sprinkle of fresh herbs, or even a side salad to create a well-rounded meal.
There you have it, dear food enthusiasts! Crispy leftover mashed potato pancakes that bring joy to your taste buds and a sprinkle of nostalgia to your heart. Until next time, happy cooking!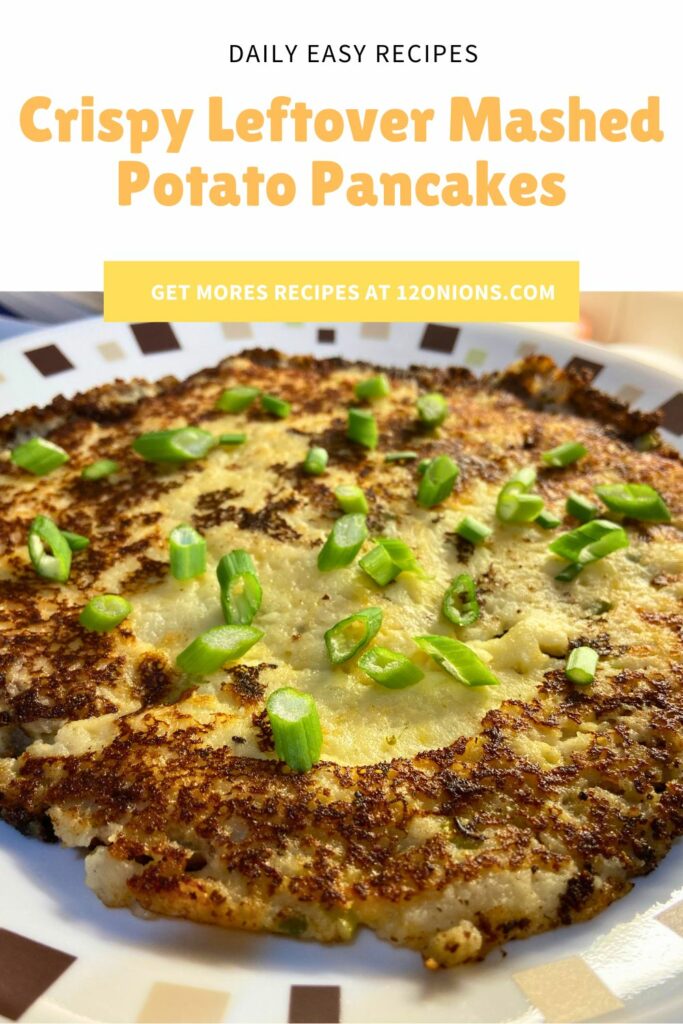 Crispy Leftover Mashed Potato Pancakes
...
Ingredients
2

cups

cooked and cold mashed potatoes

2

eggs

lightly beaten

1

tablespoon

all-purpose flour

⅛

teaspoon

garlic powder

1

tablespoon

vegetable oil

1

tablespoon

chopped fresh chives
Instructions
Place potatoes, eggs, flour, and garlic powder in a bowl; mix well.

Heat oil in a skillet over medium-high heat. Transfer potato mixture to the skillet, pressing with a spatula to flatten evenly. Cover and cook until bottom is crispy, about 10 minutes.

Invert onto a serving platter and garnish with fresh chives.
....Advertisements....
CONTINUE READING BELOW