..Advertisements..
Continue reading below
Every winter, as the first chills set in, I'm instantly transported back to my childhood. I remember how my grandmother used to prepare this special dish, the aroma filling our home, creating a warm and inviting atmosphere. It was more than just food; it was a family tradition. Our neighbors always knew when Nonna was cooking her signature dish, as the delicious scent would waft through the entire neighborhood.
One evening, my friend Clara, curious about this aroma, came knocking. Without hesitation, my grandmother welcomed her to our dinner table. That evening, we laughed, shared stories, and forged a bond over a bowl of what Clara called the best pasta dish she'd ever tasted. This dish, my dears, is none other than the Easy Pasta Fagioli.
How to Prepare Easy Pasta Fagioli
Ingredients for Easy Pasta Fagioli
1 tablespoon of rich olive oil
1 fresh carrot, finely diced
1 crisp celery stalk, finely diced
1 thin slice of white onion, finely diced
1/2 teaspoon of minced garlic
4 cans (8 ounces each) of smooth tomato sauce
1 can (14 ounces) of aromatic chicken broth
1 tablespoon of dried parsley flakes
1/2 tablespoon of dried basil
Freshly milled black pepper, as per taste
1 1/2 cups of ditalini pasta
1 can (15 ounces) of cannellini beans, well-drained and rinsed
Directions for Easy Pasta Fagioli
Warm the olive oil in a saucepan over a medium flame. Once hot, toss in the diced carrot, celery, and onion. Cook until they're soft and translucent.
Introduce the minced garlic to the pan and let it sauté just until it releases its aroma.
Gradually add the tomato sauce, chicken broth, parsley, basil, and freshly milled black pepper. Let the mixture simmer gently for about 20 minutes, allowing the flavors to meld.
In a separate pot, boil water with a pinch of salt. Once boiling, add the ditalini pasta. Cook until it's al dente, which should take around 8 minutes. Drain the water.
Combine the beans and the freshly cooked pasta into the saucepan with the simmering sauce. Let everything warm up together for an additional 1 to 2 minutes.
What type of pasta works best for Pasta Fagioli?
Ditalini pasta is traditional, but feel free to use any small pasta shapes like macaroni or orzo.
Can I use vegetable broth instead of chicken broth?
Absolutely! Vegetable broth can be a great vegetarian substitute in this recipe.
How do I store the leftover soup?
Ensure it's cooled down before transferring it to an airtight container. It can be refrigerated for up to 3-4 days.
Can I add meat to this recipe?
Certainly! Some versions of Pasta Fagioli incorporate ground beef or sausage. Simply brown your choice of meat before adding the veggies.
Is it necessary to rinse the cannellini beans?
Yes, it's advised to rinse canned beans to remove excess sodium and improve their texture.
Can I use fresh tomatoes instead of tomato sauce?
Of course! Fresh tomatoes can add a vibrant flavor. Just ensure to blend them into a smooth puree before using.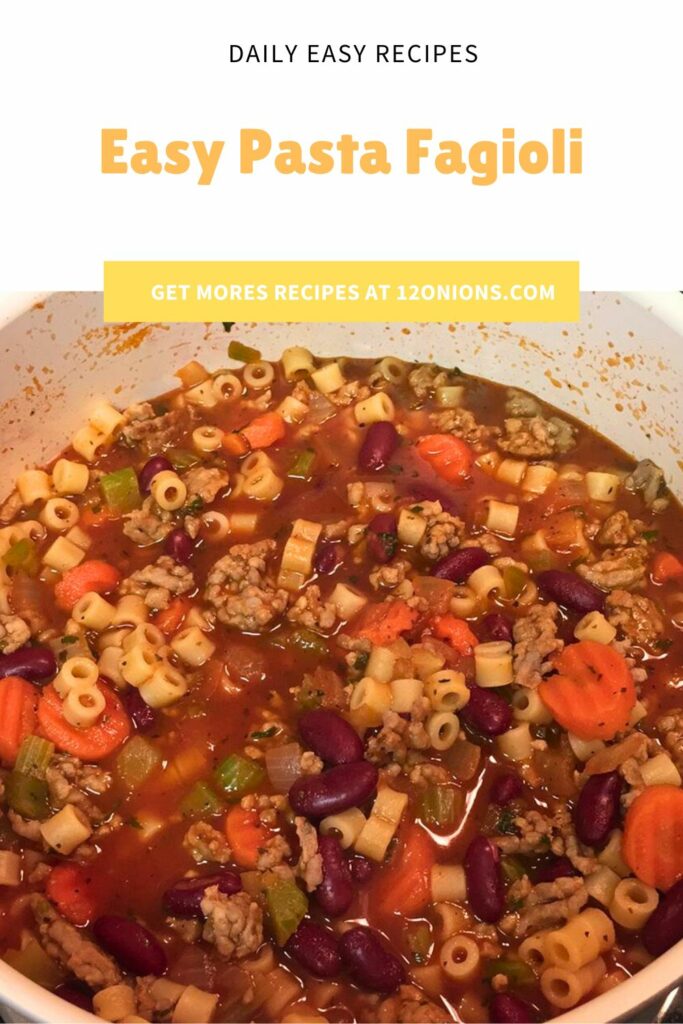 Easy Pasta Fagioli
...
Ingredients
1

tablespoon

olive oil

1

carrot

diced

1

stalk celery

diced

1

thin slice onion

diced

1/2

teaspoon

chopped garlic

4

8 ounce cans tomato sauce

1

14 ounce can chicken broth

1

tablespoon

dried parsley

1/2

tablespoon

dried basil leaves

freshly ground black pepper to taste

1 1/2

cups

ditalini pasta

1

15 ounce can cannellini beans, drained and rinsed
Instructions
Heat olive oil in a saucepan over medium heat. Add carrot, celery, and onion; cook and stir until soft. Add garlic and sauté briefly. Stir in tomato sauce, chicken broth, parsley, basil, and pepper; simmer for 20 minutes.

Bring a large pot of lightly salted water to a boil. Add ditalini pasta and cook for 8 minutes or until al dente; drain.

Add beans and cooked pasta to soup; simmer until heated through, 1 or 2 minutes.
....Advertisements....
CONTINUE READING BELOW